As is the tradition, I'm always the last blogger in blogland to get a gift guide up (did I mention we just got our tree up two days ago?!), but I love searching for fun gift ideas all over the interwebs (including tons of small businesses & handmade items) and smashing them all into one big post for you guys! And this is that post, so let's get down to business. There's stuff for grown ups, finds for kids, and a ton of budget friendly ideas that are under $25, and even $15! Hope you find something you love for someone you love… even if that someone is you (I'm totally asking Santa for a few things on this list 😉
GIFTS FOR GROWN-UPS
Here's what we're loving, either firsthand stuff we've bought ourselves and have really enjoyed – or things we're getting for friends & family (or hoping to find under the tree). 
1. Not to be dramatic, but this is my dream wallet ($62). I'd smile every time I used it AND it could double as a clutch for dressy events.
2. I've noticed box box stores selling these for upwards of $88 and these are beautiful handmade leather wrapped vases ($55) and you get to support a small business.
3. Nothing says personal like getting grandma her grandkids birthstones (or a sibling her kids birthstones) and these birthstone rings have great ratings and an affordable price tag: $34.
4. This quilted purse ($44.99) looks a lot more expensive to me (and you know how I feel about black).
5. This might be a just me thing, but a fuzzy leopard coat is always my idea of a good time, and this one is majorly marked down to just $28.
6. This jawbreaker catchall ($28) is just so joyful and sweet. It's something you might not buy for yourself, but if someone got it for you, it would be so practical for jewelry on a night stand or the bathroom sink.
7. I think this might be my favorite thing that I found this year, across all three boards. This shop makes custom necklaces from kids drawings ($29). Isn't that fun?!!?
8. I love how handsome and meaningful this personalized wood watch feels ($54). I love that you can add a custom engraving to make it even more meaningful.
9. This chic silver watch is a total classic. Love how clean the lines are, and that it's under $50 ($41 to be exact).
10. Ok, so you might think this is weird, but anyone you know who's into design and decorating might love these designer dominos ($21) just for how lovely they'd look on the coffee table (plus it's an actual game you can play!).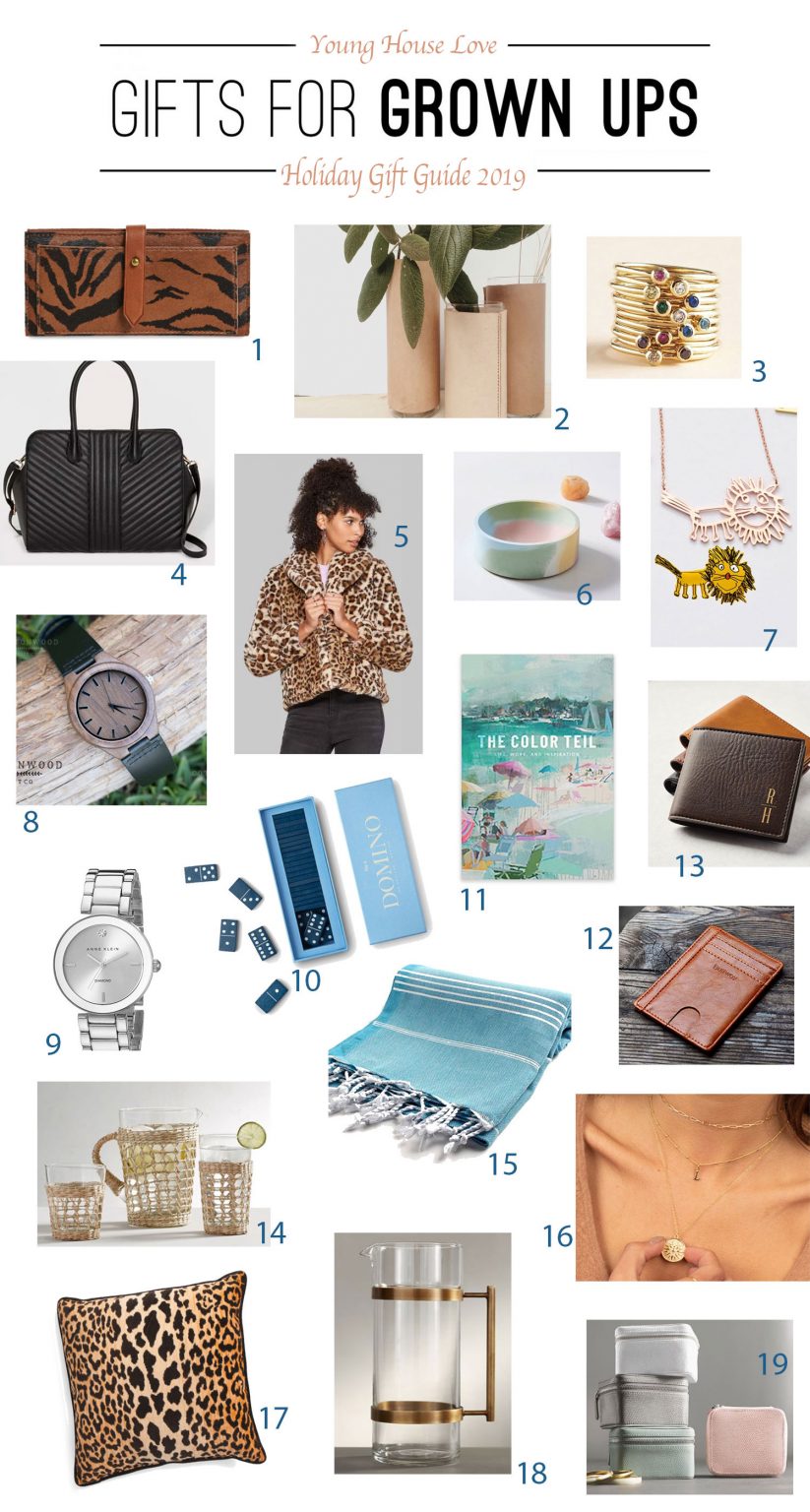 11. I've bought this big hardcover Teil duncan book ($40.99) three times! Once to have it on the bookshelf, a 2nd time for the art I could cut out & frame from it (there are dozens of large prints inside!), and a 3rd time as a gift for a friend who came over & admired my framed prints.
12. This is an oldie, but it's a classic too. John got this skinny wallet ($12.99) years ago in the Alaska brown color and it still looks great. It's nice & slim (read: not bulky but holds a lot of stuff) so it fits into a pocket nicely, and it's genuine leather (you can't beat that price).
13. If you want to get someone a personalized leather wallet by a cool Etsy maker, this one looks just lovely and has great reviews. And it's still completely affordable, ringing in at $29.60.
14. This one feels kind of random but if I had a dollar for every time someone asked where I got my woven cups I'd be rich enough to buy like 422 of them. I got mine at Sur La Table 12 years go, but haven't seen 'em since & then these cane cups & pitcher caught my eye (6 tumblers are $48, highballs are $8 each, and the pitcher is $27.50).
15. I love the idea of giving someone a lovely set of turkish bath towels ($19.90 each). And these come in so many amazing colors.
16. Coin necklaces are IN and I keep seeing them in the sponsored ads that Instagram serves me (they target me with possums & jewelry) but this coin necklace ($32) even comes in rose gold, which is my favorite, and it's made by maker in Spain who has amazing reviews (and the price tag is great).
17. Super chic leopard pillow ($39.99). The extra big size is what makes it look even more luxe on a sofa or armchair.
18. Why not give a gorgeous pitcher ($34.50) full of sangria or margaritas to your bestie?
19. A travel jewelry case ($23.50) is one of those gifts people never think to buy for themselves, but if you buy it for a friend or family member they'll smile and think of you every time they use it. So practical & beautiful.
GIFTS FOR KIDS
Once again we put things in here that we actually own and love, along with stuff we're buying our kids this year, or considering for other little cousins & friends.
1. These classic wooden blocks ($52.49) are staples in our house – literally years & years of so much fun, from building cities to tallest tower competitions.
2. I love that this felted slingshot ($16.25) feels like a nerf throwback, done in a fun handmade way. I loved shooting those soft arrows inside on a cold day, and you can even get the slingshot and choose custom colors for the felted balls for that $16.25 price.
3. These puzzles are huge hits around the house for us. Just put one out on the table. See what happens. Our kids act like they have better things to do, but everyone ends up together making it in an hour or two. Mudpuppy states puzzle ($16.99) & Mudpuppy dogs puzzle ($16.74).
4. Grammy has one of these real bingo set ($19.95) and the kids can't get enough. It's just really fun to spin the balls, call out the numbers, and see who wins.
5. Glittering kinetic sand ($12.99) can keep kids busy for ages (especially if you keep it in an upper cabinet in the kitchen and only take it out for special occasions). Bonus points if you give them forks & butter knives to play with it with at the kitchen counter. BTW, I'll take kinetic sand over slime any day!
6. Just this past week we hosted a playdate and a little friend came over carrying this suitcase art kit ($22.49 with a bonus $3 off coupon right now) and it was such a hit that both of my kids have requested one of their own for Christmas.
7. Our son has a longtime love of watches and the $5 ones keep breaking and dying, so we're stepping it up and grabbing this Timex kids snoopy watch ($20.95).
8. If you ask us our favorite family board game of all time, it's without a doubt: Ticket to ride ($45).
9. A friend got this If I Built A House book ($6.20) for our son for his birthday and it's such a fun topic. He imagines all the cool things he would add to his house – which inspires both of our kids to muse about what they'd add too.
10. Growing up I loved my beanbag, and we added one to the Real Simple room we designed (both of our kids were there and they lived in it all day). Makes me think a beanbag like this ($70.99) for their rooms would be a stellar choice for reading, hanging out, and even fort building.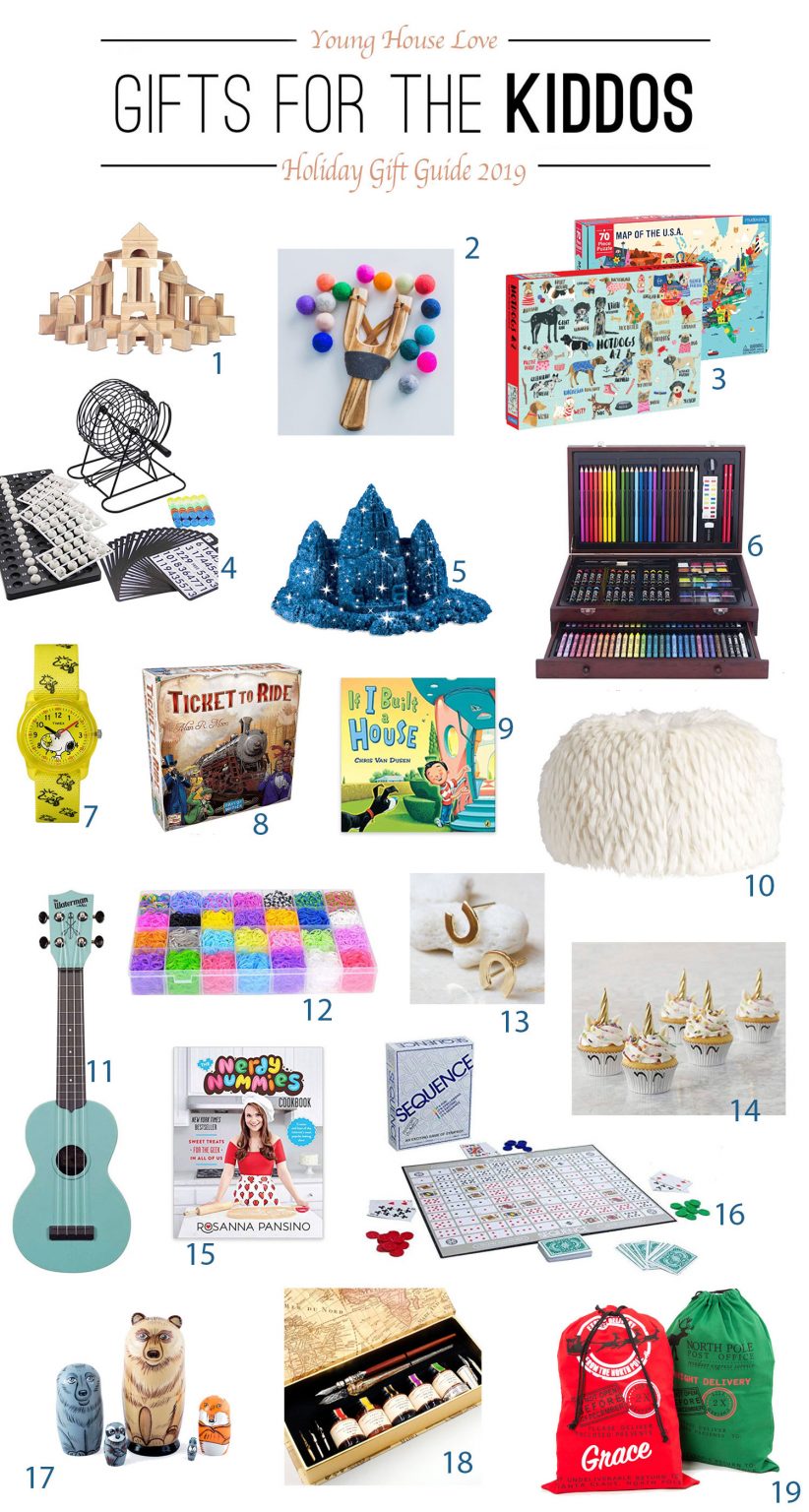 11. We bought this exact Ukulele ($39.99) for our daughter last year (they learned how to play it in school, and even treated us to a concert! It was amazing & 1000x better than the recorder – ha!).
12. Our kids are both extremely into Rainbow Loom, and this Rainbow Loom Expanded Kit ($24.99) would keep them busy for weeks! I love that they both create so many things to share with their friends & help each other if they get stuck.
13. We gave our daughter's best friend a set of 14 carat gold plated horseshoe earrings ($14.99) like this for her birthday since she loves horses. She loves them so much she won't take them off.
14. Another thing we had to include in this list = baking related activites. Our kids LOVE THEM SO MUCH! We have learned that from cookie decorating to pancake bake-off competitions, they love an hour spent in the kitchen getting their hands dirty and whipping up some eats. This unicorn cupcake decorating kit ($10.28) looks pretty great, so maybe that'll be next.
15. We got into watching this YouTube channel a while back and the kids still love the idea of looking up her recipes, so this Nerdy nummies cookbook ($14.99) would be a nice analog (no phone or computer required) gift that they can thumb through whenever they're in the mood to cook.
16. Our other favorite family board game is definitely Sequence ($13.99), which we play at least a few times a week (you can do teams, individual games, etc). And the price is great.
17. This might seem weird but both of our kids LOVE nesting dolls. We found this out when our son randomly brought home a set from his preschool that was a holiday gift (they colored them) and they still get played with a year later! So this set of forest animal nesting dolls ($22.60) looks fun. Animals are always a hit.
18. This calligraphy pen set & quill ($39.99) would be a ton of fun for older kids. I would have loved to get this as a kid! Heck I kind of want it as an adult…
19. I learned about these last year when some of my blogger friends were grabbing them. These Santa bags (2 for $10.76) are a great idea because you can reuse them every year and cut down on waste – plus gift wrapping doesn't get easier (even for oddly shaped items).
GIFTS UNDER $25
This is my favorite list to make each year, because I'm always amazed at how many budget-friendly things are out there (this list has even more than the other two – I just couldn't stop).
1. I am enamored with these tiny cuff earrings ($16.25).
2. I love a random funny gift that makes me think of the gift giver every time I use it, and these Friends mugs totally fit the bill (they're marked as $14.50 – but use the code CYBER to save 25%)
3. We own this hanging whale planter ($17.45) and put it in the bunk room (and every single kid who comes over asks their mom for one). Pop a faux succulent in there and you're done – or a real one if you're fancy.
4. I love these gold initial letter pendant necklaces ($17) so much because they look like they could be an antique from your grandma, and they're so personal and sweet – and under $20!
5. This pink & gold watch ($24.99) is delicious. Literally the cutest thing I've seen all day.
6. This might sound insane but now I want a globe-shaped himalayan salt lamp ($14.99), because I love the rocky craggy ones I have at home (the glow is SO GOOD!) but the round smooth sphere looks magical. Might have to add one….
7. This Yeti mug ($24.99) would make an awesome gift for any mom you know who runs around to activities and games and wants to keep their coffee hot all day long. My sister in law comes to mind.
8. Any DIYer would appreciate a nice safety glasses ($7.36) since the basic ones from the store are a little cheap feeling, and really solid ones like this still don't break the bank but feel about 100 times nicer.
9. Two words: Ugg inserts! Now anyone can turn regular non-Ugg boots into fluffy Ugg-feeling ones by adding these for $19.99 (rain boots suddenly feel cozy!)
10. I love these cozy wooly sock sets & they're $13.99 for five pairs! That means they're just $2.80 a pair! Wrap them with twine on top of another gift or give them to neighbors & friends with a packet of hot cocoa.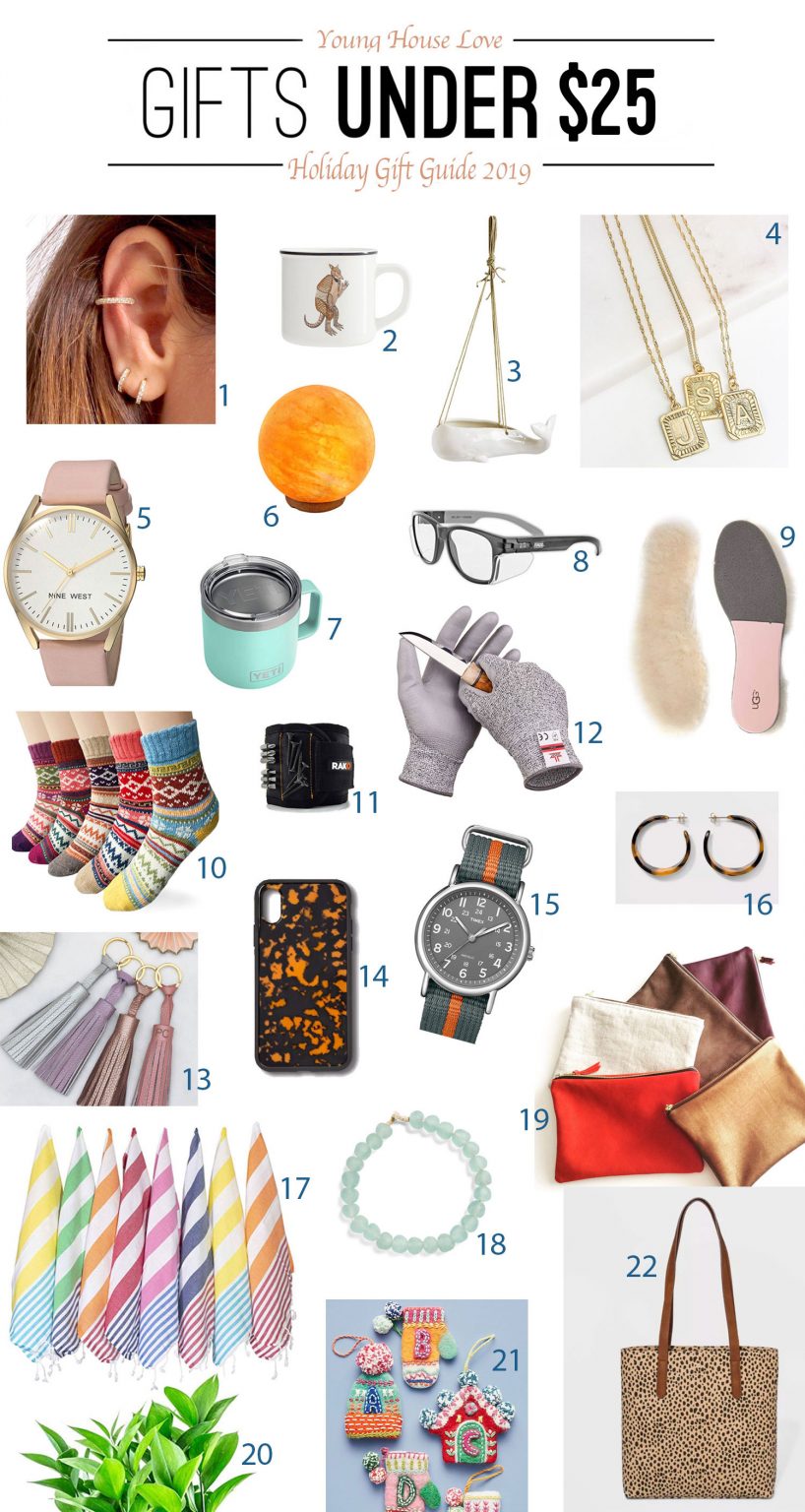 11. This magnetic wrist band ($15.99) can keep screws, drill bits, and nails on hand. It's a great stocking stuffer for the DIY lover in your life.
12. Also, these safety grip work gloves ($9.98) are so good to have around.
13. I love these personalized tassel keychains ($21.53). Gifts just feel much fancier with personalized initials on them – and I love me a tassel.
14. I have loved this tortoise phone case cover ($19.99) ever since I laid eyes on in out in the real world and asked a total stranger where she got it.
15. This unisex timex watch looks so cool & utilitarian, and I love that it would look great on anyone – literally John & I could share it, $22.91
16. Woop, there it is. Tortoise hoops! An under $8 item (just $7.99!) that look so chic. I'd love to unwrap these.
17. This set of 12 Turkish hand towels is such a smart way to approach friend/neighbor gifts when money is tight. It's $37 for 12 of them! Which makes them around $3 each!!! Wrap them up in ribbon and make everyone's day (they're great for kitchen towels, bath towels, etc).
18. I asked for these pretty oversized glass beads ($19.99) myself, because they look so lovely on a stack of books or a bowl on your desk. Yes, pretty shiny things make me happy and I'm ok with it.
19. This gorgeous clutch ($23.80) comes in tons of chic colors and totally stole my heart the second I saw it. (Update – dang a sale yesterday ended so now they're $28.90 but I still love them!)
20. Send someone fresh greenery ($22.95) that stays alive for 6 months or even a year! I know that sounds insane, but this is Isreili Ruscus, which I have purchased & put in water and had it live nine months to a year every time! Just refill the water when it gets low. That's it!
21. This monogram ornament ($10) is just so lovely it almost feels like something you'd hand down to the grandkids. I just love the old feeling and the felted look (these are so cute too, $12)
22. A tote is always useful, and this leopard one looks more expensive than the $24.99 price tag. You can even tuck something fun inside, like a favorite book.
And since there are some pretty great sales going on right now, here's a rundown:
Psst – To see last year's lists, a lot of which is still linked and for sale, click here
*This post contains affiliate links*
More posts from Young House Love